"I am curious (black)"
is the 1970 Bob Kanigher story in which

Lois Lane

(with an assist from some Kryptonian tech)

becomes a black woman for 24 hours

. Yes, DC titled the most famous issue of
Lois Lane
and one of its best known socially relevant stories after a Swedish porn film. Who says comic books take themselves too seriously?
This is a story that's been talked about again and again and again and again and unfairly criticized here. And it's easy to make fun of it (and, yes, we
will
make fun of it). But too often people turn up their snotty post-modern hipper-than-thou noses at its bronze age goofiness and heavyhandedness.
"Tee-hee, that was their idea of a race story; how quaint!"
At least in 1970 somebody was willing to talk about "the color problem", instead of nowadays when society seems to have agreed to pretend that all black people grow up on the

Cosby Show

. Odds are, people who trivialize this story don't remember what 1970 was like.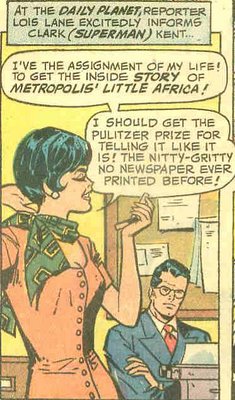 Well, I, for one, stand up for this story.
It was trying to make some points, and it did. I defy any of you modern scoffers to write a
better
story that demonstrates hubris de
nuded, two-way racism, urban decay versus community spirit, the lures of crime and drugs versus the rigors of self-respect and self-reliance, the unity of species, the heroism of the common man, freakish alien Superman "passing" as a white human, and people overcoming cross-cultural suspicions.
In 14 pages. Do it.
Oh, and

heat vision

; you must include a

"gangsters being astonished at their melting guns"

scene.
Note the stunning efficiency of the set-up panel. The plot is set up and while

"Little Africa"

is not the subtlest or most realistic name for Metropolis's black ghetto, remember this is being written by the man who created Dr. Domino. The artistic values lie not with subtlety but with clarity and efficiency (that's a general rule in older comics). Through her words and stance, we the readers (many of whom are kids, remember) understand

immediately and unequivocally

that Lois is being a

conceited, pompous poseur.



If there are any doubts, look at Clark, who's got his patented look of Kryptonian disapproval that says,

"You morally repulse me, foolish human woman-child, and if you'd ever shut yer yap I might have married you years ago. Better change to Superman and keep an eye on you, ready to save your silly ass and watch you learn yet another painful lesson while I chuckle and wink at the readers."




Naturally,

Lois goes to the hood and gets snubbed by schoolkids, a perambulator-pushing parent, a tenement-dwelling single mother, and a limping blind old woman.

The only person who even acknowledges her existence is an itinerant

Angry Black Dude

, whose personal mind-slaves carry him around a platform so he can lecture them at various streetcorners (and, boy, were they relieved when he got a blog instead). My favorite one is the guy in the

beret

who's visiting from Metropolis's

Little Gayborhood

; he's clearly much less interested in demonizing Lois than in

picturing the guy with glasses naked.



For the record, the Dude's name is

Dave Stevens

, one of the whitest names imaginable. Is Kanigher that trapped in the conventions of bland comic book names or is he being intentionally ironic? Who can say?

This section of the story has been criticized for not justifying the black characters' animosity as a natural result of their poor treatment by the white majority, to which I say "

piffel

". First, when Lois becomes black we experience that poor treatment first-hand through her, the character we already are supposed to identify with. That's a lot more efficient and real than pages of blathering about the historical background of society's ills. Second, Bob Kanigher is not

interested

in justifying

any

kind of predjudice. Period. If you want comics that justify bad behavior rather than inspiring people to rise above it, then go read Marvel.

Anyway, this being a Lois Lane story,

Lois wheedles Superman into changing her temporarily into a black woman so she can get her story.

More on that, later...