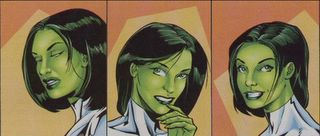 Are you ready for "
Jade: the Animated Series
"? Well, get ready.
As fans of Silver Age Hawkman stories know, the Absorbascon grants the ability to talk to birds. Well, two little birds just told us that certain producers have been given the green light (so to speak) to produce a pilot for a Jade cartoon series.
JLU for adolescents and adults; Titans for the pre-teens; Krypto for the kids; Jade for the girls.
As Commissioner Gordon once said, "Clever--fiendishly clever!"